Video Widget Snapshot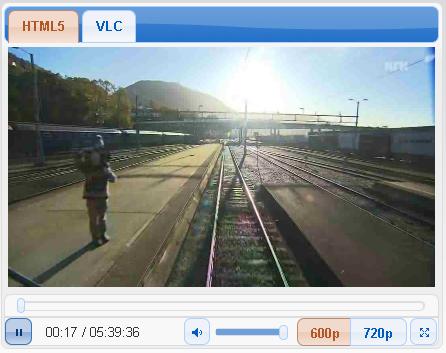 Click on a component bellow to highlight it on the snapshot above and view a description of it:
Video Widget Components
Here you can watch the video.
Toggle playing and pausing the video.
View the time elapsed from the beginning of the video.
View video duration.
View a graphical representation of the time elapsed from the movie from its duration. You can also use this slider to seek current position in the video to a desired point.
A graphical representation of the sound volume level which can be manipulated with the mouse in order change current volume.
Use this button to alternatively disable or enable the sound for the video.
This group of check buttons show definitions available for the video. The definition characterizes its resolution (number of pixels on horizontal and vertical). A definition is coded here, as in television systems, with a number, representing the number of vertical pixels (height), and a "p", which is an abbreviation from progressive scan.
The number of vertical pixels depends on the display aspect ratio which is usually 4:3 or 16:9. Because the video needs to fit in your browser its actual size (when not in Full Screen mode) will be between 640 and 1024 horizontal pixels.
Displays the video on the whole screen without having to be limited by the web page.